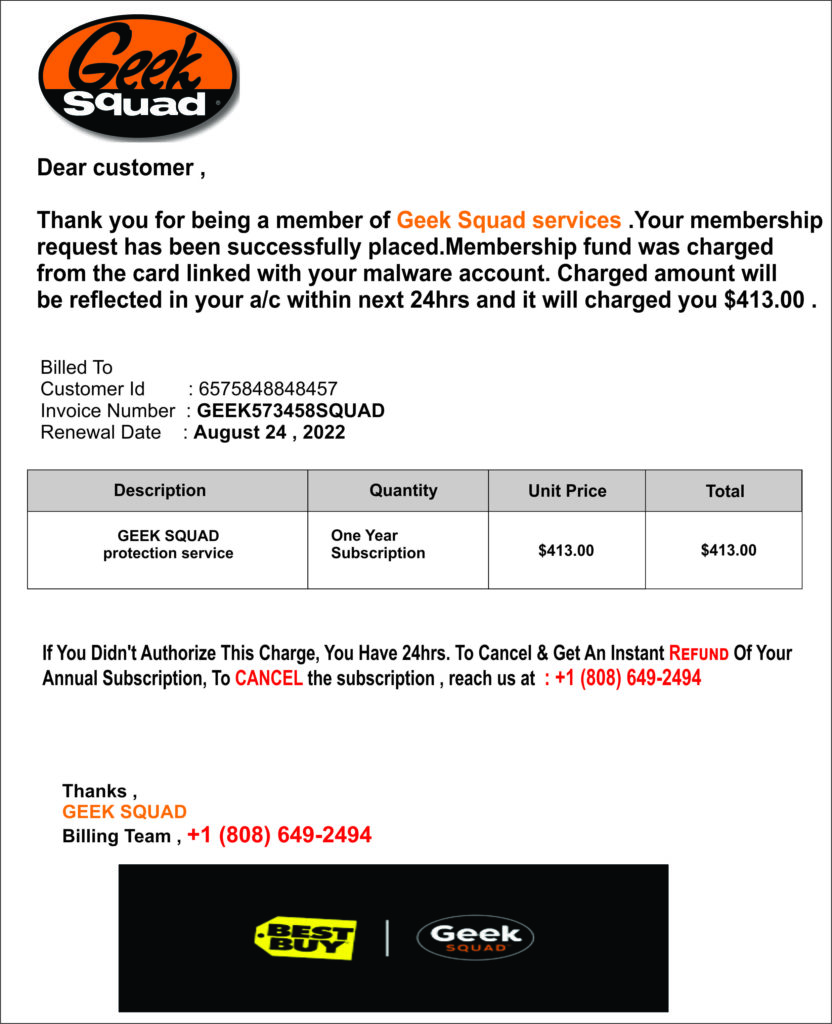 This scam consists of a subject line and an image attachment but no text in the body of the email, which helps it bypass email spam filters.
The goal of this scam is to steal money from unsuspecting victims. The phone number will connect with a call center where a "Customer Service Rep" will pretend to be a Geek Squad employee and use verbal quick change tactics to steal from the victim.
Details of this "Geek Squad Invoice" email scam:
Email Subject: The invoice for your order is available for payment and delivery@5435/YUUTT/87768
Email Sender: Guillaicv Demeuh guillaicv4643@gmail.com
Sent To: undisclosed-recipients:
Received From: from mail-pl1-x62d.google.com (mail-pl1-x62d.google.com [IPv6:2607:f8b0:4864:20::62d])
Text of this "Geek Squad Invoice" Scam:
Dear Customer,
Thank you for being a member of Geek Squad Services. Your Membership request has been successfully p[laced. Membership fund was charged from the card linked with your malware account. Charged amount will be reflected in your a/c within the next 24hrs and it will charged you $413.00.
Billed To:
Customer ID:       6575848848457
Invoice Number: GEEK573458SQUAD
Renewal Date:     August 24, 2022 
Description
Quantity
Unit Price
Total
GEEK SQUAD
Protection Services
One Year Subscription
$413.00
$413.00
If you didn't authorize this charge, you have 24hrs. to cancel & get an instant REFUND of your annual subscription, to CANCEL the subscription, reach us at: +1 (808) 649-2494
Thanks,
Geek SQUAD
Billing Team, +1 (808) 649-2494