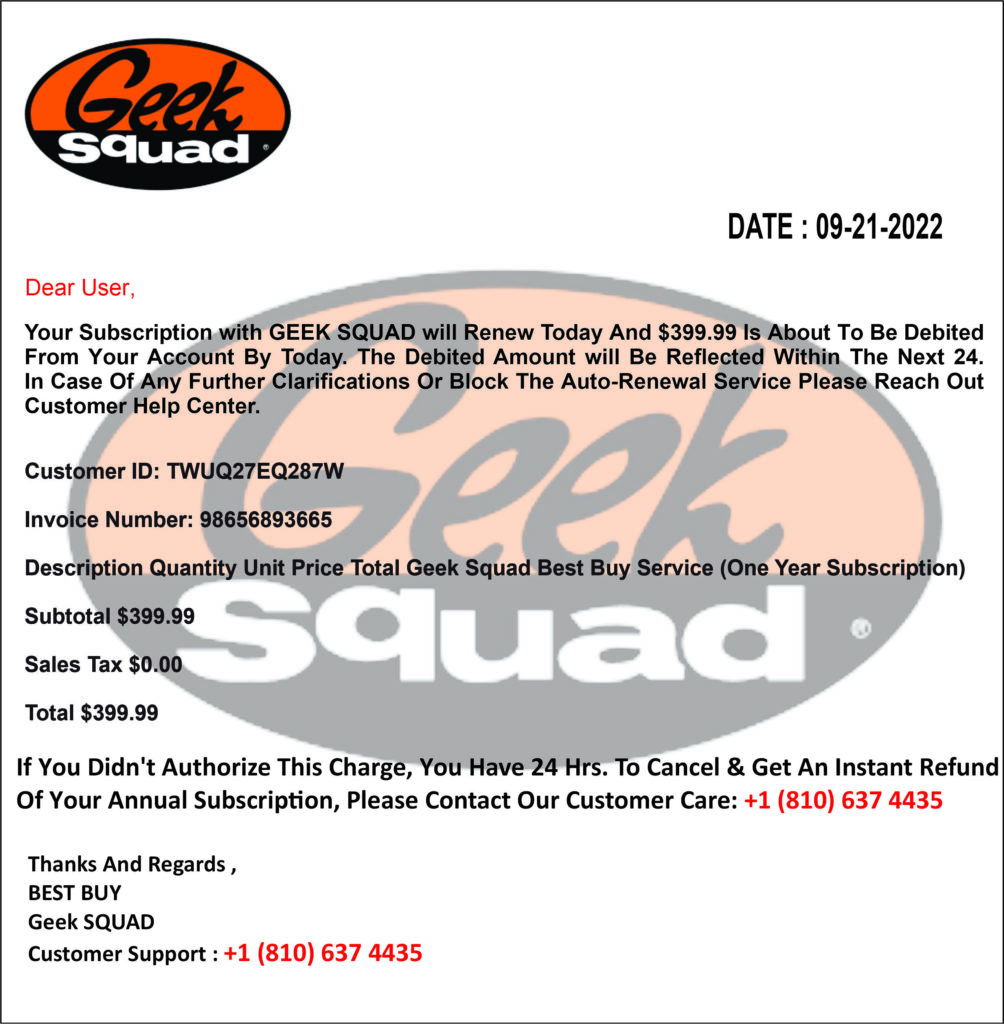 Geek Squad Invoice Scams appear to be the Go To for Indian Call Center Scams these days. Here is yet another variant of the email scam designed to get you to call and cancel your non-existent Geek Squad payment. This scam consists of a .jpg "Invoice" attached to an email with no content in the message aside from "Hello User".
The text of the invoice makes it clear that it wasn't written by a native English Speaker. Nearly every letter is capitalized, wording is clunky and uses words that are technically correct but not commonly used in the way that the way the scam is written.
NOTE * This scam can easily be avoided by contacting your bank and checking for recent charges.
Details of this "Geek Squad Invoice Email" email scam:
Email Subject: Payment Received And confirmed!
Email Sender: levicollin6438@gmail.com
Sent To: undisclosed-recipients:
Received From: mail-qv1-xf2c.google.com
Text of this "Geek Squad Invoice Email Image" Scam:
---
DATE: 09-21-2022
Dear User,
Your Subscription with GEEK SQUAD will Renew Today And $399.99 Is About To Be Debited From Your Account By Today. The Debited Amount Will Be Reflected Within The Next 24. In Case Of Any Further Clarifications Or Block The Auto-Renewal Service Please Reach Out Customer Help Center.
Customer ID: TWUQ27EQ287W
Invoice Number: 98656893665
Description Quantity Unmit Price Total Geek Squad Best Buy Service (One Year Subscription)
Subtotal $399.99
Sales Tax $0.00
Total $399.99
If You Didn't Authorize This Charge, you Have 24 Hrs. To Cancel & Get An Instant Refund Of Your Annual Subscription, Please Contact Our Customer Care: +1 (800) 637 4435
Thanks And Regards,
Best Buy
Geek SQUAD
Customer Support: +1 (800) 637 4435