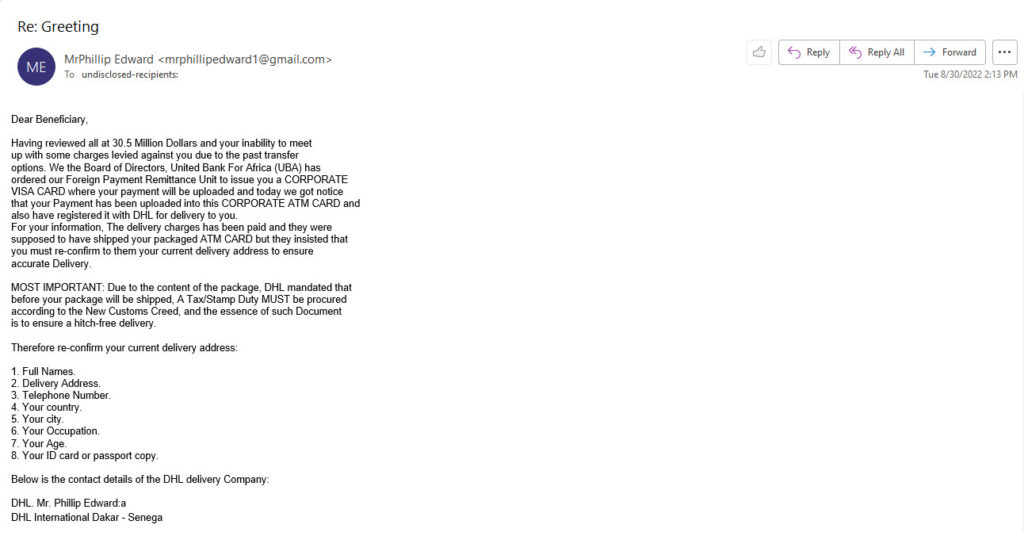 Another variant of the Nigerian Prince scam this email claims to be sending an ATM Card loaded with million$ from an African bank.
Details of this "Merick Garland" Identity Theft Phishing Scam:
Email Subject: Re: Greeting
Email Sender: MrPhillip Edward mrphillipedward1@gmail.com
Sent To: undisclosed-recipients
RReturn-Path: uosmantidiane@gmail.com
Received From: from mail-vs1-xe2a.google.com (mail-vs1-xe2a.google.com [IPv6:2607:f8b0:4864:20::e2a])
Dear Beneficiary,
Having reviewed all at 30.5 Million Dollars and your inability to meet up with some charges levied against you due to the past transfer options. We the Board of Directors, United Bank For Africa (UBA) has ordered our Foreign Payment Remittance Unit to issue you a CORPORATE VISA CARD where your payment will be uploaded and today we got notice that your Payment has been uploaded into this CORPORATE ATM CARD and also have registered it with DHL for delivery to you.
For your information, The delivery charges has been paid and they were supposed to have shipped your packaged ATM CARD but they insisted that you must re-confirm to them your current delivery address to ensure accurate Delivery.
MOST IMPORTANT: Due to the content of the package, DHL mandated that before your package will be shipped, A Tax/Stamp Duty MUST be procured according to the New Customs Creed, and the essence of such Document is to ensure a hitch-free delivery.
Therefore re-confirm your current delivery address:
Full Names.
Delivery Address.
Telephone Number.
Your country.
Your city.
Your Occupation.
Your Age.
our ID card or passport copy.
Below is the contact details of the DHL delivery Company:
DHL. Mr. Phillip Edward:a
DHL International Dakar – Senega