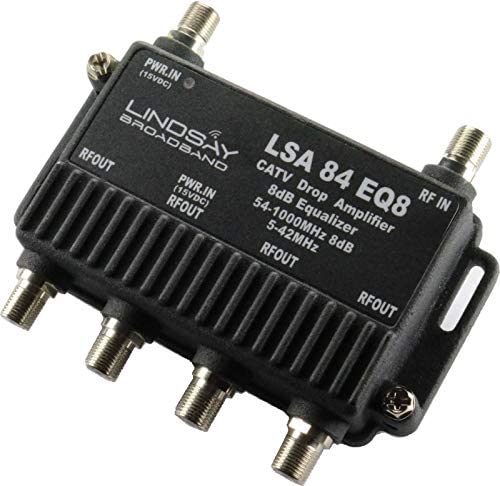 4-Port Cable TV/Antenna/HDTV/Internet Digital Signal Amplifier/Booster/Splitter/Equalizer with Passive Return, F59 Terminators (Lindsay LSA84-EQ8). For use with OTA Antennas to boost weak signals for Digital Encoding applications like Plex Server.
This is a TV signal amplifier which provides one input and four outputs, for connecting multiple TV sets or cable boxes. Allows multiple devices to connect to an antenna or cable system without losing signal quality.
Amplifier includes an integrated equalizer which varies amplifier gain. The equalizer provides more amplification to high frequency signals, which tend to get weaker over long cable runs. All ports provide an amplified signal, with a minimum gain of +0dB @ 54MHz up to +7.5dB gain @ 1000MHz.
Suitable for Antenna or Cable TV use. Compatible With All Standard And Digital Cable TV Services, OTA Antenna Reception. Not compatible on systems with an existing amplifier or pre-amplifier. Not compatible with satellite systems.
Meets or exceeds all SCTE Standards. PTC Short-Circuit Protected UL Listed Adaptor – Self-resetting circuit protection provides safe protection against short-circuits to minimize outage times. Amplifier has 6 kV ring wave surge design for protection against voltage spikes. Operating temperature: -40 to +60 ºC (-40ºF to +140ºF). 15 PSI weather-tight seal.
Prevents image pixelation with digital cable, boosts antenna (OTA) signals for distribution to multiple TVs. May improve cable modem performance. May improve HDTV reception. Includes Amplifier, Power Supply, and two 75-ohm terminators.