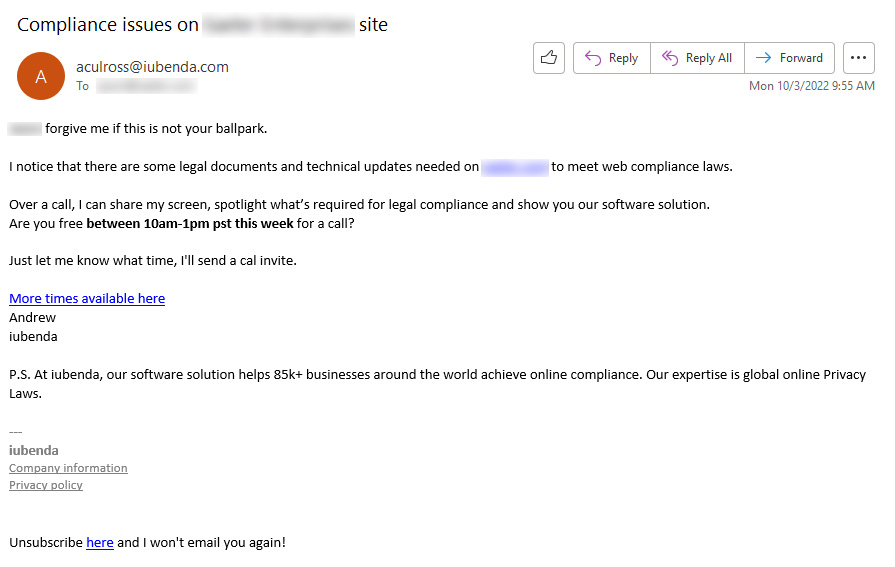 It's a daily event to get some marketing pitch from a company, most likely in India, which may or may not be a legitimate business pitching something about SEO, Compliance, Marketing, or Design. The style of writing and usage of English is equivalent to those spam messages from Indian Call Centers trying to rip off Vulnerable Seniors across the globe and as such is the first strike against the "Marketing Pitch".
Probably the most ironic faux pas of this particular message is the non-compliance with the CAN-SPAM Act of 2003 while pitching legal compliance for websites. Admittedly, it often seems like the U.S. Govt has little interest in enforcing this law but it is Law and the email solicitation is clearly in violation.
---
The CAN-SPAM Act is a U.S. law to control spam e-mail
The Controlling the Assault of Non-Solicited Pornography And Marketing (CAN-SPAM) Act of 2003 is a law passed in 2003 establishing the United States' first national standards for the sending of commercial e-mail. The law requires the Federal Trade Commission (FTC) to enforce its provisions.
---
Details of the Spam Email:
Email Subject: Compliance issues on "yourwebsite.com" site
Email Sender: aculross@iubenda.com
Sent To: A Specific Recipient:
Received From: mail-ej1-x636.google.com (mail-ej1-x636.google.com [IPv6:2a00:1450:4864:20::636])
Body of Spam Email Message:
"Recipient" forgive me if this is not your ballpark.
I notice that there are some legal documents and technical updates needed on "yourwebsite.com to meet web compliance laws.
Over a call, I can share my screen, spotlight what's required for legal compliance and show you our software solution. Are you free between 10am-1pm pst this week for a call?
Just let me know what time, I'll send a cal invite.
More times available here
Andrew
iubenda
P.S. At iubenda, our software solution helps 85k+ businesses around the world achieve online compliance. Our expertise is global online Privacy Laws.
—
iubenda
Company information
Privacy policy
Unsubscribe here and I won't email you again!