CVV2 is a Method of Credit Card Fraud Prevention for Online Ordering.
The customer verification number (CVV2) is a number printed on your card to reduce the potential for fraudulent use. This number is not pressed into the card like the expiration date, or the actual card number, making it difficult for someone to obtain it from credit card imprints or receipts. By configuring your payment gateway to verify billing address and the CVV2 number you make it more difficult for someone to use a stolen credit card or credit card number with your website. This extra step protects both the merchant and the card holder. Failure to require the CVV2 number when customers purchase your products online generally results in the Credit Card Company holding the business responsible for the fraudulent charges. In other words, the business looses their products and the credit card company takes back the funds because of a failure to comply with Fraud prevention standards. Where do you find the cvv2 number?
CVV2 is an authentication scheme established by credit card companies to further efforts towards reducing fraud for internet transactions. It consists of requiring a card holder to enter the CVV2 number in at transaction time to verify that the card is on hand.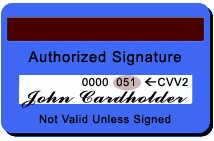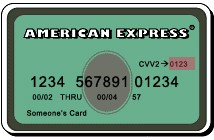 Visa & MasterCard: On Visa, Mastercard and Discover cards, the CVV2 number is located on the back of the card in the signature strip. The CVV2 number is three digits long and is located to the right of any other numbers on the signature strip. American Express: On American Express cards, the CVV2 number can be found the front of the card (usually towards the top right corner). Like on the Visa, Mastercard and Discover card, this number is not pressed into the card.