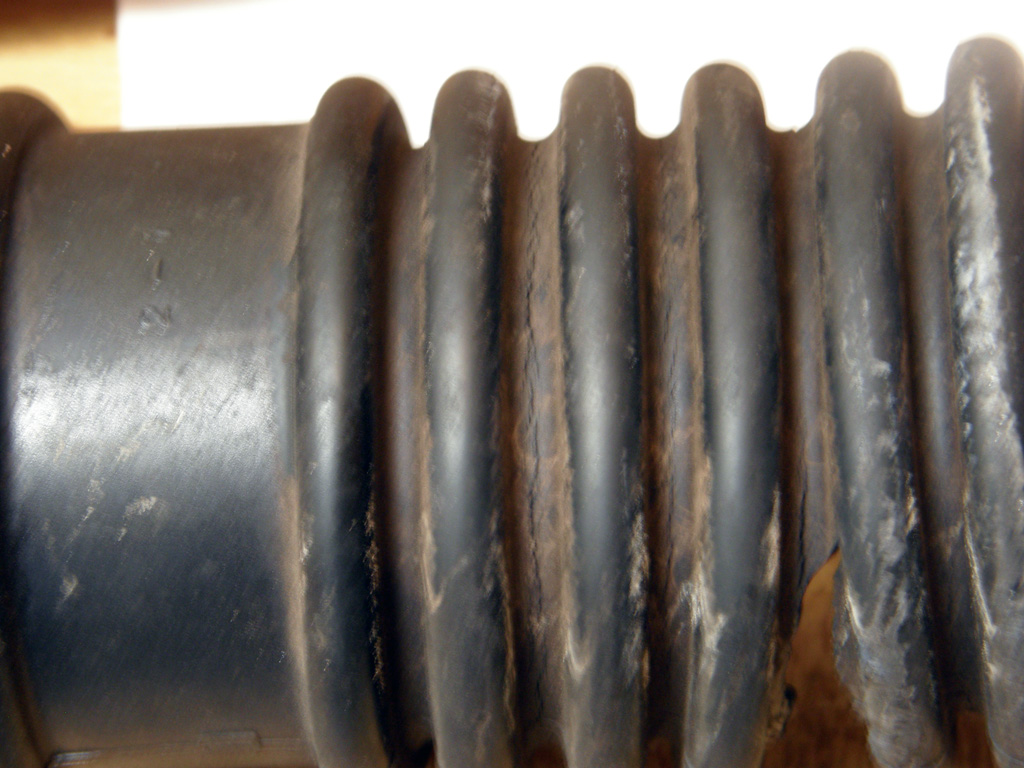 Mazda Protege/Protege 5 Air intake Hose
The adventure, The Process, and The How-To Video
A couple of weeks ago I took the car to get an oil change at Brake Masters. They did their usual awesome job of getting me in and out quickly; changing the oil, rotating the tires and making recommendations as to other maintenance issues. Along with the oil change, I had them replace the air filter and was on my way in less than 1/2 hour.
A few days later I noticed that my Mazda Protege was starting to lug off the line. At first, I assumed it was because it's the time of year here in Arizona that we switch from shoes to flip-flops and I was having trouble adjusting to the lack of a heel when shifting. A couple of more days later and it was getting really bad lurching as I shifted from 1st to 2nd and the check engine light came on. So I popped the Mazda's hood and took a look.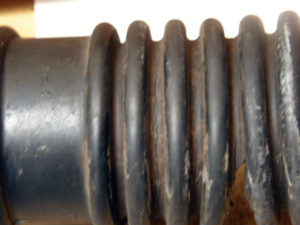 I checked that everything was tightly connected, no loose hoses or wires. Based on past experience with 80's and 90's model cars and the owners manual I was convinced I had an emissions issue with a faulty EGR Valve. As it turned out with the hood up and the engine idling, I could hear a hiss. Closer inspection revealed the problem – a cracked hose leading from the air filter to the intake manifold.
Now the fun really starts! I went online and pulled up the phone numbers for Checker, Auto Zone and Pep Boys – then started calling.
Trying to find the part for my Protege turned out to be a royal pain as I didn't know what Mazda called the part, nor did the clerks.
After finding out that none of the stores carried the part, I called the local Mazda dealer and found out the hose is called an air induction hose (air intake hose for normal people). I found out that the rubber degrading and cracking was par for the course with these hoses on the Protege in hotter climates like Southern Arizona; they, of course, carried the part in stock for $119.97.
Armed with the Mazda name, part number and not wanting to spend that much for a part that wears out so quickly I called the parts stores back. Again no luck finding the part, but one of the stores Auto Zone referred me to a local parts chain Merle's Automotive Supply (Merle's gets the plug for giving me an aftermarket part number). With a brand name and model number in hand again I called the local shops. Unfortunately, no one stocked the aftermarket air intake hose even though it's used on 1999-2003 Mazda Protege and the Mazda Protege 5 2.0L and as the dealer told me the rubber cracks with heat and age. I found out I could special order the part for $44.99  but it would take at least 5 days, so…
Being a computer geek I looked online and found the aftermarket air intake hose on Amazon for $27.97!
Great deal huh? Well maybe not.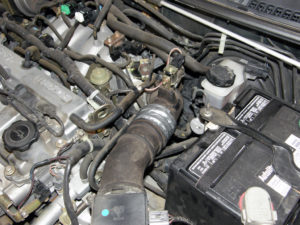 I went ahead and ordered the Dorman 696-601 (for Mazda Protege / Protege 5 2.0L) from Amazon and since it was so cheap I paid the $19.97 for overnight shipping; what a long night that turned out to be. Once the part was ordered, I still had the issue of a seriously cracked air intake hose – Duct Tape to the rescue!
With the hose taped up, I could drive short distances and prevent debris from getting into the intake manifold. The check engine light even went out after a couple of miles (melted into place forming a seal of sorts with the hose).
Since the duct tape I used had a max temperature range of 200° F driving any distance was out of the questions, But it didn't matter as it would only be a couple of days… or would it.
Amazon emailed me the next day saying the part had shipped, so I was pretty excited – I'd expected it to take a few days to be picked and packed. Unfortunately the part didn't arrive overnight, in fact FedEx never received the part from Amazon. So I went online to Amazon, struggled to find a way to contact them and finally got ahold of a support rep.
To give them credit, they issued a credit on the next day shipping – but that didn't do me much good. The next day I get in touch with Amazon again and after a very frustrating conversation end up with a new part to be shipped next day on Monday (it was Thursday).
Frustrated but unable to do anything, I waited. It was shipped on Friday; delivered on Monday.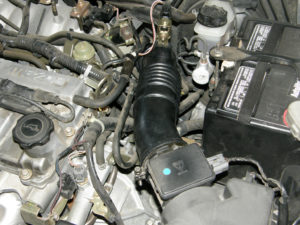 Dorman air intake hose in hand, I pop the hood, struggle to remove the old part and get the new hose installed in about an hour.
Changing the hose should have taken less than 10 minutes, but I ran into a problem with an odd metal piece which slips into a slot on the hose. It had become wedged with age and I was afraid to use too much force, which might have broken something else. After trying several methods to separate the bracket, I was finally able to pry it loose with a flat head screwdriver.
Once installed a quick jaunt around the block and all was well.
Update! – I Just came across this great video on YouTube that shows step by step how to replace your Mazda Air Intake Hose with the aftermarket Dorman Air Intake Hose.